ON THE EDGE
Volver exhibits 3 rug art pieces on climate change at Carpet Diem, Paris, November 10th–12th.
ON THE EDGE - Rug art from Volver
Volver takes the notion of a rug to art medium level with its new three rug art pieces in series On the Edge. Volver examines the vulnerable point of no return in exploring the effect of climate change on glaciers, forests and oceans.
Volver uses the hand tufting technique as a sculptural and painting tool to achieve raw and textural aesthetic. The surface of the rug art pieces bring forth the physical presence of natural elements forward to the audience to emphasis the closeness of the calamities of the climate change at our fingertips
Exhibition Carpet Diem
From November 10 to 12, 2023, during Paris Photo, the first edition of "Carpet Diem" will be
held at Espace Commines. This hymn to contemporary textile creation will be open to professionals and the general public.
Sixty rugs and tapestries will be presented in the form of a labyrinth
designed by scenographer Hervé Sauvage.
Independent artists as well as established brands
from 16 different countries will reveal their current textile creations,
combining various techniques, materials and textures.
Certain exhibiting artists will be present to interact with visitors. Ksenia Stanishevski,
the Founder of Volver Studios, will be attending the exhibition.
Exhibitors
ART AND LOOM, BALMACEDA ESTUDIO, BOMAT, CC TAPIS, COCO BRUN, CODIMAT COLLECTION, CREATIVE MATTERS INC, DIACASAN, EBRU, EDITION169, FLOOR STORY, GALERIE TRIFF, KNOTS RUGS, LAURA NIUBÓ, LITTLECABARI, MAMAN RUGS, MARTINE DUPUIS, MAXIME MOUROUX, MEGHANSPIELMAN, MIKSI RUGS, NANIMARQUINA, PINTON, REUBER HENNING, SITAP, STITCH, SYBILLE DE TAVERNOST, TOULEMONDE BOCHART, VOLVER STUDIOS, ZOLLANVARI.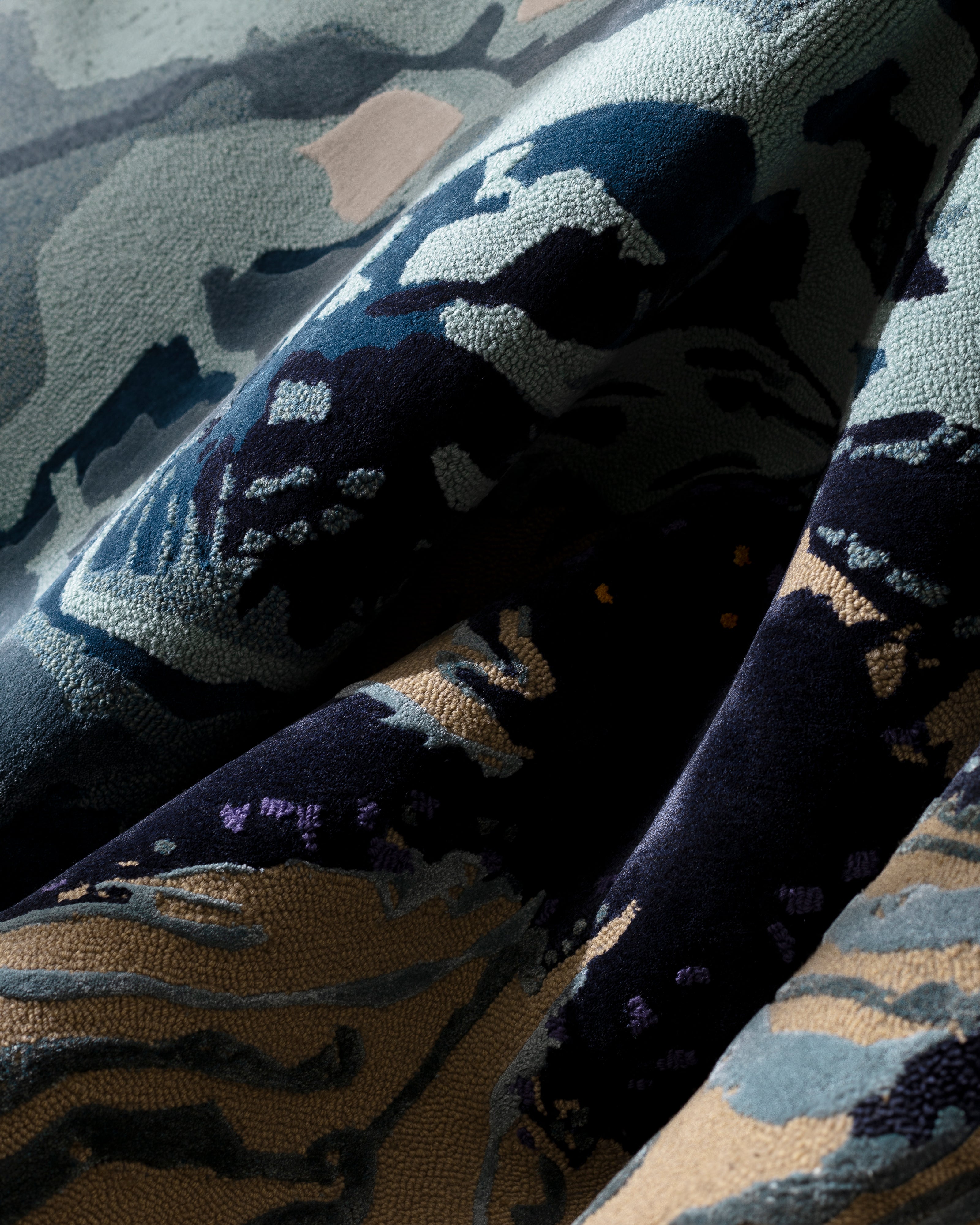 ON THE EDGE - Designs and designers
OCEAN
Design: Ksenia Stanishevski
A white foamed crystal wave lavishes down at an oil contaminated beach in a harrowing yet hopeful beauty. With a distant reference to Atlantis, would we still use our powers to restore it to a pure condition, or is it a lost utopia?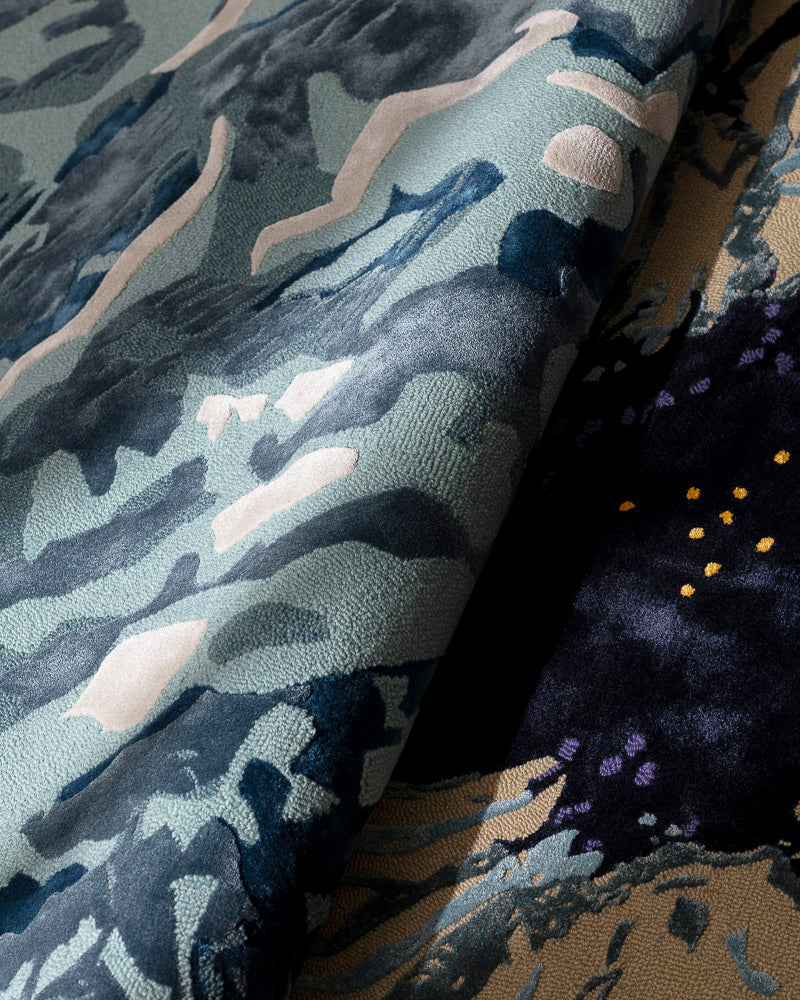 COAL
Design: Ksenia Stanishevski
Trees are emotional and intelligent beings. Can they survive our fires by pulling all their juice into the roots so that they can bloom again? Or, perhaps, it is us ourselves, burned down beyond the edge of rescue.
BLACK ICE
Design: Christian Houge
Christian art photograph of a Norwegian glacier Black ice is translated into a tactile rug art. In his photograph series "The Death of the Mountain "Christian examines the fragility of nature and warns of the effects of our ignorance and lack of connection. His images are a homage to this ancient giant, formed by tens of thousands of years and now rapidly dying within just a few years.
ON THE EDGE DESIGNERS
Ksenia Stanishevski

the Founder of Volver Studios and designer, born and raised in the artist home in Tallinn, Estonia, studied Visual Arts in the Academy of Fine Arts in Tallinn, before completing the Masters in Industrial Design at the School of Design and Architecture in Oslo (AHO).Ksenia is always pushing the edge between art and design, innovation and traditional techniques. "In Volver, we never compromise the artistic idea and balance our business on the edge between the commercial and cultural."–she says.

Christian Houge

A Norwegian art photographer. Exploring human ́s condition and the relationship between humans and Nature has been an ongoing theme in his work throughout the past two decades.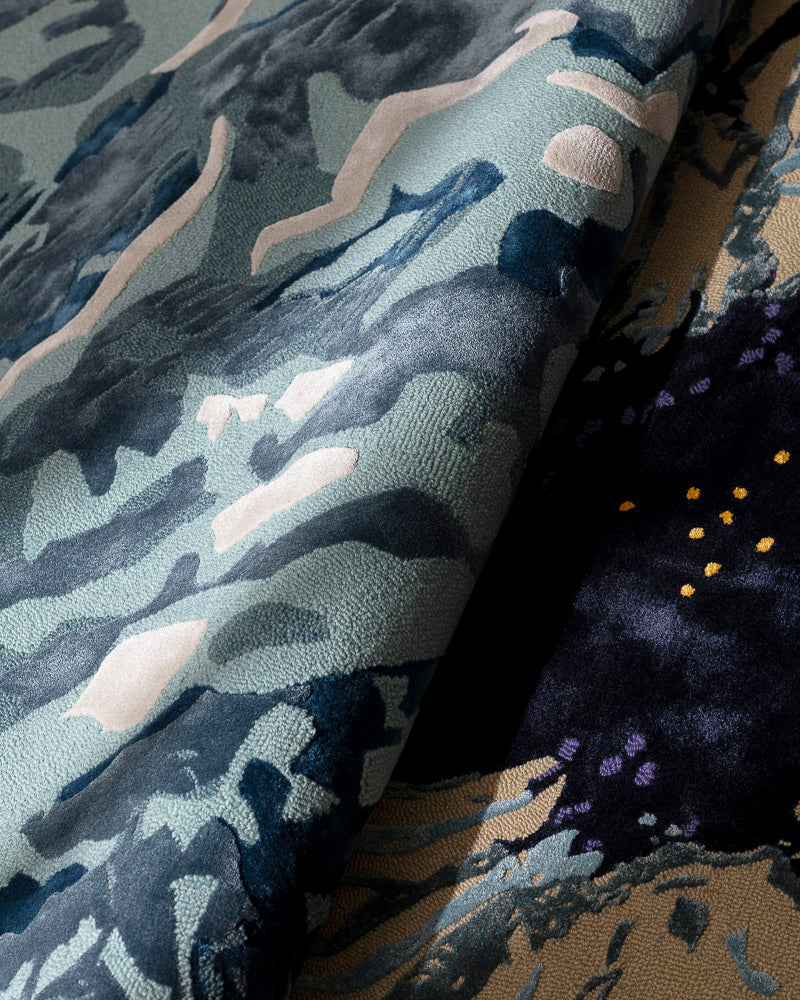 CARPET DIEM
Espace Commines17, rue Commines 75003 PARIS11 a.m.–8 p.m.
from November 10 to 12, 2023-FREE ENTRANCE

Instagram @carpetdiemparis
www.carpetdiemparis.com
info@carpetdiemparis.com