How to Choose a Rug
You think of pampering your space with more atmosphere and looking for a refined way to do it? A modern hand made rug can just be the right solution for you. To make your choice easier, we lead you through 6 simple steps towards the right choice.  
1. Where Do I Want To Place My Rug?
In which room? What is happening in the area where I want to place the rug? How much traffic is it in the room?
1. Consider our Size & Placement Guide to evaluate different placement options. 
 
2. To help visualize how an area rug will look in your room, you can use a masking tape to create a border on a floor where you ultimately want to place it. Interior architects are welcome to use our High Resolution images, submitted at Downloads. 
 
3. At each Product Page you can make a choice from our standard sizes to find what suits best for your desired solution or contact our Custom Design Service to make a custom sized rug.
2. What Do You Want To Achieve With A Rug?
Look around and visualise your room. Do you wish to:
1. Unify the furnishings and bring more harmony to a room? If you want to define the quality of the whole room, a large rug will do this effectively and unite the furnishing of the room.
 
2. to enhance some focal areas, like a sitting area or dining area? An area rug that includes the furniture in those areas will be a good choice. 
 
3. to want to break the dynamics of the room? Smaller or overlapping rugs can add more playfulness into your space.
3. What Is Your Style Of Life And Work?
Do many people use the room and how? Are there are children, pets? Is the room exposed to moist, dirt, hard use? How much cleaning does it need? As a general advise we recommend the following:
1. For areas of High Use / High Traffic such as hallways, public halls, public offices and retail areas we recommend hand tufted rugs with rich pattern in darker colors, low pile and high density. (Choice of rugs)
 
2. For areas of Moderate use / Moderate Traffic, such as public lounge, hotel rooms, meeting rooms, dinning rooms and living room´s sitting areas we advise hand tufted and flat-woven rugs with rich pattern in darker colors, low to medium pile and high density. 
 
3. For areas of Light use / Light traffic such as bedroom and living room´s sitting areas we recommend hand tufted and flat-woven rugs with lighter colors, higher pile and intricate details.
4. What Atmosphere Do You Want To Create?
How do you want people to feel in your room? How can this atmosphere tell others more about you, your home or your brand?

Although there is a limitless variety of different atmospheres, try to define several words about how you want it to be, like:
• Calm, relaxing, 
• Playful, joyful, cheerful
• Energizing, active, stimulating,
• Laid-back, casual
• Serious, strict
• Dark, mystical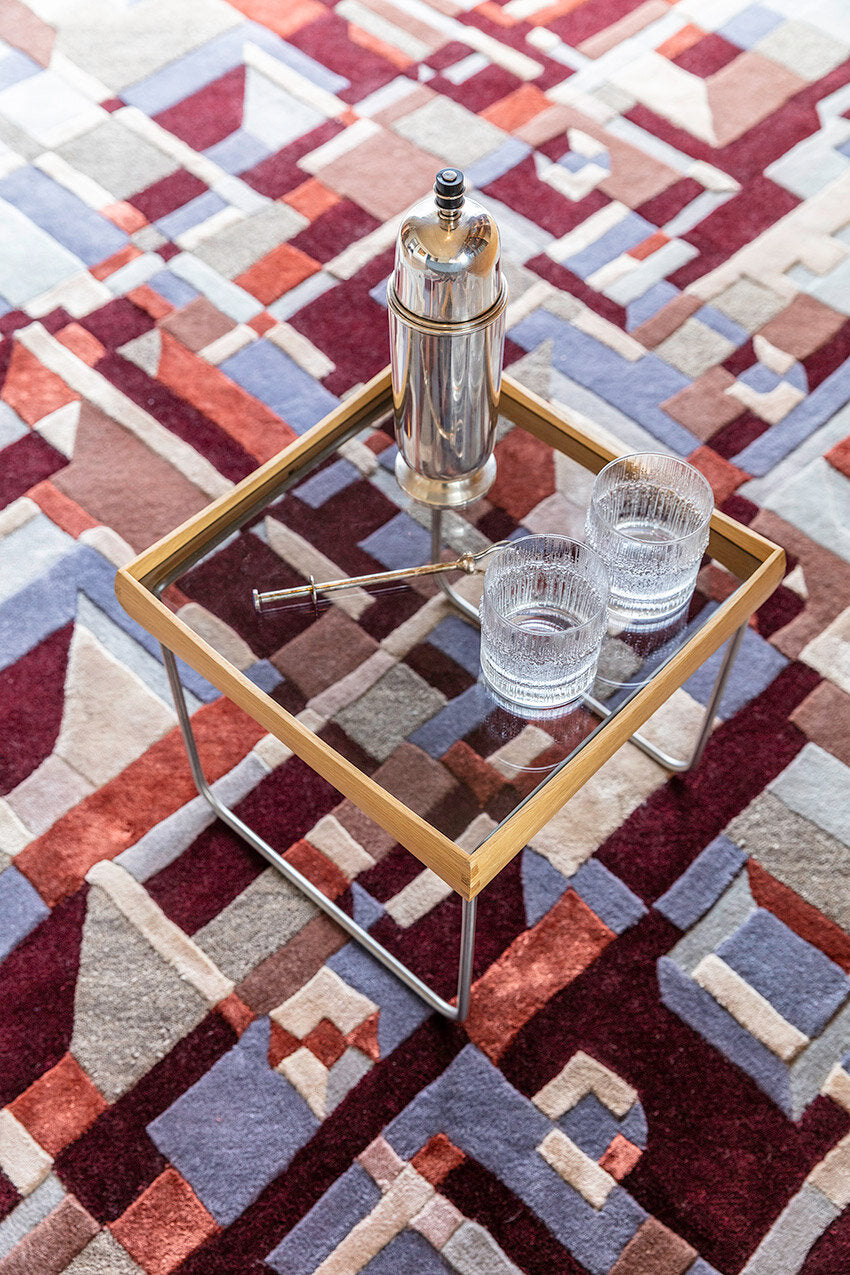 5. What Is Your Style?
Is it minimalistic, classic, ethnic, retro? What colour and style is your room and furniture?
 
• If your room is rich with textures, patterns and colors a neutral rug forms a solid foundation for the rest of the room. 
 
• If most of your furniture and walls are of a solid color, a patterned rug will create a good contrast and enhance the furniture.
 
• If your room is monochromatic and you wish to keep it that way, a rug a couple of shades lighter or darker than the rest will give more depth to your interior.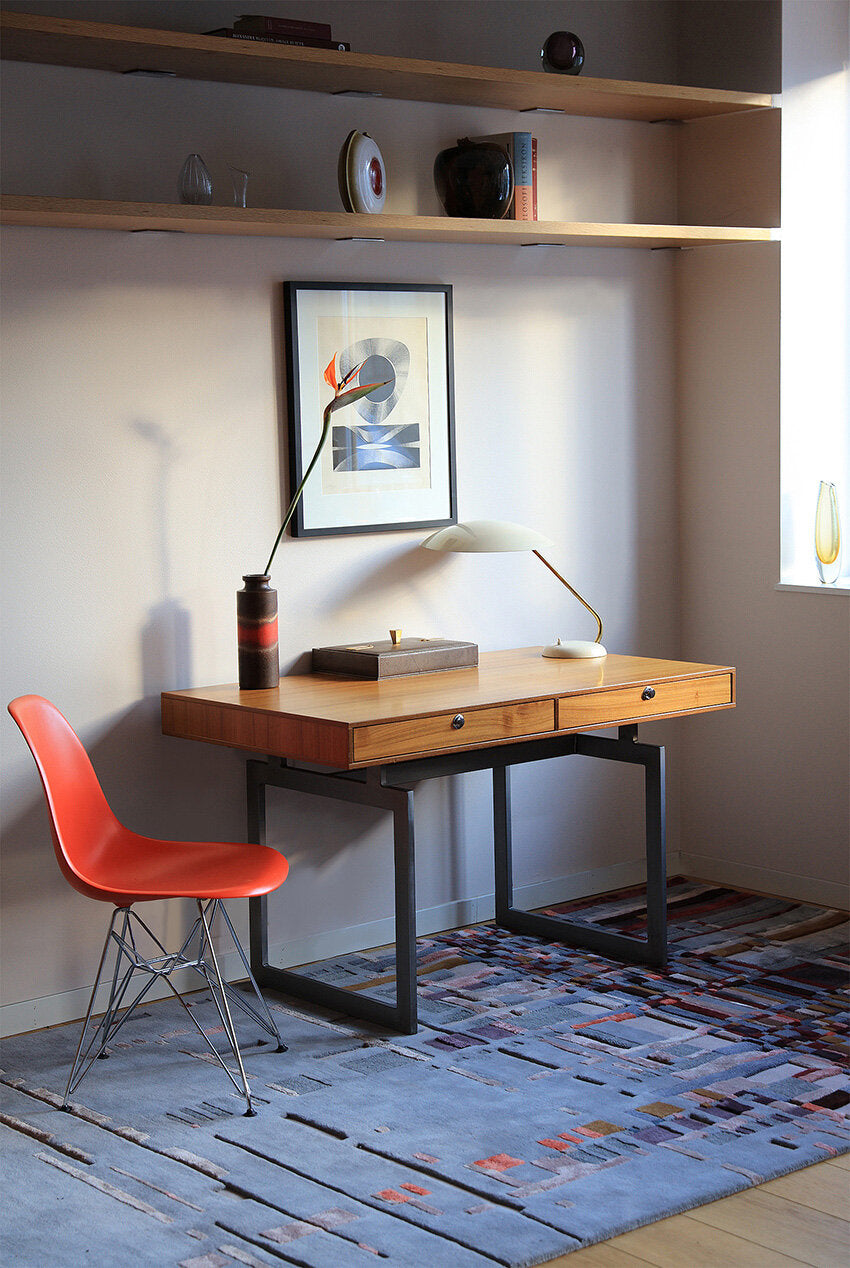 6. What Is Your Budget?
Last but not least, estimate your budget. Obtaining a handmade rug is placing your money into a long-lasting pleasurable and frequently used quality experience. We recommend choosing the rug you really want in order to gain more benefits from your product long-term.

However we have some budget solutions for you and you are welcome to refer to our Size & Placement Guide for budget options.

Fact: Traditionally, the handmade rugs were a part of dowry and would be passed on from one generation to the next. Our carpets are made the same durable way.
Now you are not only more confident at choosing your rug, but know some professional clues to how to work with your interior in general. If you have any questions and advice we would be happy to hear from you: